If you suffer from acne, eczema, dermatitis, or any other embarrassing skin condition and struggle to find an effective topical medication, you may be wondering if there are any alternative options available to you. If this sounds at all familiar, then treatment with a hemp or CBD-based oil could be the perfect solution!
Many consumers have finally found relief using these 100% natural and organic compounds, and their first-hand testimonials often come complete with before and after photos, which are more than encouraging. But why are these compounds so useful and how can I be sure that I'm buying the right product?
In this article, we will answer these very common questions,as well as explore 10 of the best hemp and CBD-based skin care products that are currently available on the market today.
CONSIDER A HEMP OR CBD OIL FOR SKIN CARE
Hemp and cannabidiol (CBD) oils both have many amazing properties, especially when infused and applied together. When these oils are used topically, they have the potential to help treat problem skin conditions such as acne or embarrassing blemishes. Natural hemp and CBD oils can restore balance for a drastic improvement in the overall quality of skin health.
WHY HEMP AND CBD-BASED OILS ARE SO EFFECTIVE
Hemp and CBD oils both can provide numerous benefits for overall skin health due to their deeply moisturizing qualities and nourishing vitamins. When applied topically, these oils can effectively treat problem skin conditions such as acne, eczema, and atopic dermatitis by:
Soothing inflammation and intensely moisturizing skin
Moderating oil production and
Employing anti-aging properties
10 GREAT CBD AND HEMP-BASED TOPICALS FOR SKIN CARE
#1. Health of Hemp: Hemp Salve 2,000mg Rejuvenating Hemp Cream ($149.99+shipping)
For noticeably revitalized skin, this rejuvenating hemp-based cream from Health of Hemp works to restore healthy skin from within by helping regulate its natural repairing processes. Made with all natural ingredients and free of artificial colors or added fragrances, this hemp salve can effectively reduce inflammation, muscle soreness, and joint pain all while working to improve the overall quality of skin health.
Pros:
Naturally made with organic ingredients
Restores overall skin health
Currently available in 2 strengths: 2,000mg and 500mg
Cons:
Price: Considerably more expensive when compared to similar products on the market.
A low number of consumer reviews
#2. Hemp Blemish Salve 2floz Salve by Uncle Harry's Natural Products ($10.95+shipping)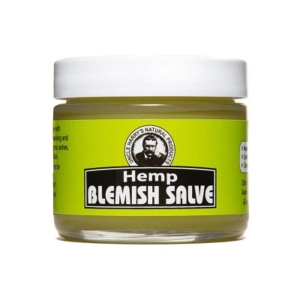 This healing ointment from Uncle Harry's Natural Products contains natural oils and herbs that could help manage painful blemishes and acne. This organic hemp-based salve is infused with lavender and calendula, which makes it a useful treatment for skin conditions such as acne, burns, and rashes in addition to being highly moisturizing and nourishing for damaged skin.
Pros:
Very modestly priced compared to similar skin care products
Relieves acne and blemishes and leaves skin moisturized
Highly reviewed with overwhelmingly positive feedback
Cons:
Size: Only available in 2fl oz jars
Poorly packaged: May arrive broken or otherwise damaged
No money back guarantee: Cannot be returned
#3. Naturally Hemp Oil Balm – 2oz Jar ($29.99+shipping)
This potent hemp balm is infused with a whopping 300mg of hemp oil to provide immediate soothing and long-lasting relief. Effective at combating acne and other embarrassing skin blemishes, this anti-inflammatory salve from Naturally Hemp can additionally provide powerful relief from joint and arthritic pain, as well as general muscle soreness.
Pros:
100% Satisfaction Guarantee: 60-day money-back guarantee
Highly affordable
5% off coupon available
Cons:
A low number of consumer reviews
Short term effects
#4. TerraBella Hemp Cream – Organic Topical ($35.00+shipping)

This handcrafted hemp cream blend from TerraBella is a powerful moisturizer that effectively fights to diminish acne, eczema, psoriasis, and many other skin conditions all while restoring your skin's natural elasticity. This unscented hemp oil cream utilizes the physical healing properties of the hemp plant to brighten skin tone and reduce fine lines to restore a youthful glow.
Pros:
Effective treatment for multiple skin conditions
All ingredients tended and harvested by hand
Returnable within 30 days (in most cases)
Cons:
Mixed reviews
Slightly more expensive compared to similar products
#5. Pain Relief Cream w/ Full-Spectrum Rich Hemp Extract- (200mg + 30mg CBC, CBG) ($29.95+shipping)
This relief cream by Total Hemp Care is infused with a full-spectrum hemp extract that includes cannabichromene (CBC) and cannabigerol (CBG). Ideal for treating troublesome skin conditions such as acne, eczema, psoriasis, dermatitis, and dry skin; this powerful formula is additionally ideal for treating achy joints and muscles, as well as arthritic and neurological pain.
Pros:
Family owned business
Highly reviewed
Modestly priced
Cons:
Highly mixed consumer reviews
Emits what many claim to be a pungent aroma
#6. Herbal Healing Organic 100% Natural Eczema Hemp Salve, Innovative Herbal Salve, Deeply Nourishing ($20.00+shipping)

Repair and heal your skin naturally with this super innovative formula from Mothers Healing Balm. This synergistic blend of organic medicinal herbs is formulated with natural and organic ingredients designed to treat even the deepest layers of skin effectively. Ideal for stubborn eczema, this salve can also be applied to annoying bug bites and stretch marks.
Pros:
Overwhelmingly positive reviews
Pleasantly scented
Created by a mother to treat her son's skin issues
Cons:
Often has a limited supply
No mention of a money-back guarantee
#7: Hempz Original Herbal Body Moisturizer, 17oz, Pack of 3 ($69.00+shipping)

Hempz Original Herbal Body Moisturizer is blended with all natural extracts and enriched with 100% pure hemp seed oil. This profoundly revitalizing lotion dramatically hydrates dry skin and provides all-day nourishment by penetrating deep for up to 12 continuous hours of moisturization.
Pros:
Over 270 consumer reviews
Very highly rated: Overwhelmingly positive reviews
Amazon Prime members pay $30.24 (56% off)!
Cons:
Improper packaging: Product could arrive broken or otherwise damaged
Some find the scent undesirable
#8: Miss Bud's Hemp Body Butter Moisturize & Nourish Skin Made from Pure Hemp Seed Oil ($13.99+shipping)

Miss Bud's Hemp Body Butter offers advanced hydration and is ideal for helping to reduce the appearance of blemishes, fine lines, puffiness, eye bags, and sagginess. Applymultiple times daily to renew, nourish, and revitalize dry skin.
Pros:
Incredibly affordable compared to similar products
Very highly rated
Option to enroll in automatic repeat delivery every 1-6 months
Cons:
A low number of consumer reviews
Only available in one size containers
#9: Wholly Hemp Body Butter, Hemp Moisturizing Cream & an Amazing Skincare Lotion (Purely Unscented & All Natural – 1oz Jar) ($19.95+shipping)

This ultralight and profoundly moisturizing body butter from Wholly Hemp is made with 100% natural and organic ingredients. Mango butter makes up the base of this product, allowing the moisturizer to absorb perfectly into the skin for almost immediate therapeutic results.
Pros:
Available in 2 scents: Lemongrass and Neutral
Highly rated
The product is returnable within 30-days of purchase (in most cases)
Cons:
A low number of customer reviews
Currently only available in small, 1oz size jars
#10: Hemp Seed Butter 8 oz. 100% Pure Raw Fresh Natural Cold Pressed ($10.98+shipping)
Help support healthy hair, skin, and nails with Plant Guru's Hemp Seed Butter. Rich in globular proteins and perfectly balanced with essential fatty acids, this salve is suitable for cosmetic and toiletry use.
Pros:
Available in 5 different sizes ranging from 4oz-3lb!
Special offers and promotions are available with the purchase of 3 or more Plant Guru products
Highly reviewed
Cons:
Mixed consumer reviews
Slow service: Possible lengthy delivery time
Poorly packaged: Could arrive broken or otherwise damaged
Conclusion
If you have battled with persistent acne for years and have found no relief using traditional skin care products, then now may be an ideal time to consider either a CBD or hemp-based topical treatment.
These oils are incorporated into often very different products, making it essential to conduct some independent research to gain a better understanding of what will work best for you.
Based on our findings, we would recommend Hempz Original Herbal Body Moisturizer or any other product by Hempz due to their unbelievably high number of overwhelmingly positive reviews by verified customers.