Best Hemp Protein On Amazon
Protein powders are part of an essential daily routine for many people. They are used as a nutritional supplement for athletes, people looking to build up their muscle mass, and bodybuilders. However, protein powders are also used as a supplement for people who are following a plant-based diet and want to include more protein in their diet.
Hemp protein powder has risen steadily in popularity over the past few years, and many people want to know how hemp protein powder works and what is the best hemp protein powder.
Let's take a look at this popular supplement, and find out which hemp protein powder is the best for you.
| Preview | Product Name | Rating | Price |
| --- | --- | --- | --- |
| | | 99.6 | |
| | | 99.6 | |
| | | 96 | |
| | | 98.4 | |
| | | 97 | |
| | | 96.6 | |
| | | 98.2 | |
| | | 96.2 | |
| | | 98 | |
| | | 97.8 | |
| | | 97.5 | |
| | | 97.3 | |
| | | 95.8 | |
1. Terrasoul Superfoods Organic Hemp Protein Powder (50% Protein)
This is one of the favorite protein powders amongst the bargain hunters out there. Terrasoul's hemp powder is one of the most affordable options yet still offers much of the quality necessary for hemp protein powder. It is certified organic, which is one of the most important things to look for in any hemp product. Hemp absorbs materials from its environment; so organic hemp is essential.
Pros:
Affordable
Organic
Mild flavor
No added sugar
Cons:
Some reviews say that it does not mix well, with a grainy texture
No added Fiber
Lower Protein than other hemp powders
2. Nutiva Organic Cold-Processed Hemp Seed Protein
We love Nutiva's Hemp protein, and it ticks all the right boxes. Being organically certified, this hemp protein is another favorite amongst consumers. This protein powder is made from USDA-certified hemp seeds and carries a certified organic stamp. If you are looking for a pure protein powder that does not carry any extra ingredients or added chemicals. The Nutiva Organic Hemp Protein is also an ethical choice because it is produced from sustainably farmed hemp, and it is also Non-GMO.
Pros:
Non-GMO
Sustainably Farmed
15 grams of fiber
Certified Organic
Mixes well in smoothies
Slight nutty flavor
Cons:
Has a grainy texture
Some reviews state that the taste is slightly unpleasant
3. Manitoba Harvest Hemp Yeah! Organic Max Protein Protein Powder
With 20g of protein, 4.5g of Omegas 3&6, and high in fiber, this protein powder is an excellent Non-GMO protein powder. You will be receiving high value for money as this is a protein powder that is a potent protein powder, made with only one ingredient. What does this mean? It means that you will have a strong hemp taste, but you will not be ingesting other compounds and chemicals that other protein powders usually use to improve the taste. Pure protein powder, exactly what you need.
Pros:
Pure product, only one ingredient. No artificial sweeteners or added extras.
Non-GMO
Organic certified
Good value for the high protein count
Great customer service
Cons:
Because there are no added artificial sweeteners, the product has a strong hemp taste
Although the company does perform tests for toxicity and heavy metals, they are not transparent to the public with these results
4. Bob's Red Mill Resealable Hemp Protein Powder
One of the best aspects of this protein powder is the fact that the company, Bob's Red Mill, is well loved for the way they get their hands on their hemp. The hemp is sourced and proceed with care, and you can be sure that the hemp is pure- no cross contamination at all.
Bob's Red Mill Hemp Protein Powder may not have an organic certification like many of the other popular hemp protein brands on the market, but the company does ensure exceptional care and standards for their hemp sourcing.
Pros:
Sourced from pure hemp seeds
No cross-pollination
No Fillers
15grams protein
15 grams of fiber
Free of fiber gluten
43% protein
Fair price
Cons:
No clear organic certification
Smaller size than other common brands (only 16oz.)
Some reviews complain about the green color and the taste
5. Onnit Hemp Protein Powder
Onnit's hemp protein powder has been formulated for the athlete. If you are looking for a protein powder that offers you minerals, vitamins, and antioxidants, then Onnit Hemp Protein Powder may just be the right choice for you.
The powder is formulated with hemp and smaller amounts of brown rice and peas. Other ingredients have been added as well, such as maca root (enhances energy), stevia, vanilla extract, acai berries, and even dark chocolate. The added ingredients help to make this powder taste great and increase your daily intake of antioxidants and nutrients.
Pros:
Great nutritional profile
High in dietary fiber
Good flavor
Cons:
Higher price point
Strange aftertaste due to stevia
Some reviews state that the powder is too sweet
6. Lean Hemp Protein Powder
This protein powder by Lean Hemp offers a variety of flavors. Because hemp can have an astringent taste, the use of the following ingredients cause this powder to be a favorite:
– Maca Root
– Coconut sugar
– Cocoa powder
However, remember that this is not a low-carb option. Because the powder uses coconut sugar, the carbohydrate content is significantly increased.
Pros:
Non-GMO ingredients
20 different amino acids including 8 essential amino acids
Great taste
Tested for heavy metals
Cons:
High sugar content
High in carbohydrates
7. Wilderness Poets, Cold Pressed Organic Hemp Protein Powder
Wilderness Poets brings us a cold pressed, organic protein powder that contains 19grams of protein per serving. This hemp protein is unique because it offers a milder taste without using any extra ingredients. By using hulled hemp seeds instead of seeds with the shell, the Wilderness Poets have produced a milder and (almost) flavorless hemp protein powder.
Pros:
Certified vegan
Certified organic
Better taste without added ingredients (when compared with other similar pure hemp products)
Good value for money
Cons:
Hemp seeds sourced from China
Processed in China
8. Zatural Hemp Protein 2 Lbs.
This protein powder from Zatural is made using an all-natural recipe. This means that there are no fillers, additives, or artificial ingredients. What this also means is that there will be a strong hemp taste, which some could find unpleasant.
Pros:
No additives
30-day money back guarantee
No Fillers
No artificial ingredients
9. Natera Hemp Protein Powder
Natera is a favorite brand in the consumer market. They use their signature absorption boost formula, which allows 90% absorbability of their products. This hemp protein powder is vegan, soy free, and also kosher. They also offer a variety of flavors for those that dislike the taste of hemp.
Pros:
Non-GMO
Different Flavor Options
Easily digested
Cons:
No organic certification
Some reviews complained about the stevia making the product too sweet.
10. Jeff's best Hemp – Hemp Protein Powder
We love this product because the hemp is sourced from small-scale, organic farmers in Canada. This company is doing something few do, they place a considerable amount of focus on supporting small scale farmers, and they use zero plastic. The packaging is made from amber glass, which is in stark contrast when compared to the majority of them. Hemp protein powders on the market.
Pros:
Raw and Organic
Ethically sourced pure hemp protein from small scale farms
No plastic
Easily mixed with water
Cons:
No flavoring added so the taste can be unpleasant to some
Although it is fine milled, some reviews still complained about the texture
11. Raw Power Hemp Protein Powder
This protein powder is as pure as it gets. It is a cold-pressed, 100% hemp protein powder that is Non-GMO and free of any artificial chemicals, flavorings, or sweeteners.
There is no organic certification and no indication about where the hemp is sourced from.
Pros:
100% pure hemp protein powder
Non-GMO
Affordable and fair price
Small scale family owned business
Cons:
Unclear where the hemp is sourced from
No organic certification
12. Erbology Organic Hemp Protein Powder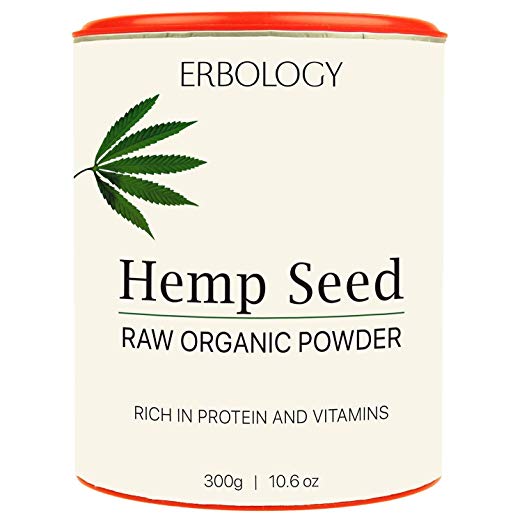 This is another smaller scale company that produces quality products. The Erbology Organic Hemp Protein Powder is 100% organic, cold pressed hemp protein powder. This protein powder is Non-GMO and uses no additives and no preservatives. The company is a family run and is committed to bringing plant-based wellness to the consumer market.
Pros:
Family owned and run
Certified organic
Raw and cold-pressed
Non-GMO
Cons:
No clear indication of the hemp source
No added flavors so it will have a strong hemp taste
13. Navitas Organics Hemp Powder
Although this is the last protein powder on our list, it is by no means the least important. This protein powder from Navita is certified USDA organic, Non-GMO, and kosher. It is a pure protein powder made by a Californian-based company whose business ethos speaks of holistic, superfood health care for people.
Pros:
Certified Organic
Non- GMO
No added fillers or artificial flavorings
Cons:
No clear indication of hemp source
Some reviews claim that the flavor too is strong and earthy, even for a pure hemp powder
Conclusion
As you can see, there are many different hemp protein powders on the market. In order to choose the best hemp protein powder, you need to look at the following:
– Organic or at least testing for heavy metals or harmful pesticides
– Where the hemp is sourced (if there are no testing or no organic certifications)
– Cold -pressed
While many factors make up the best hemp protein powder, the three factors listed above are arguably the most important.
From there, you need to decide whether you want to have the natural hemp flavor or a hemp powder that has added flavor. We love the Pure Protein Powder by Lean Hemp for natural flavors, Jeff's Best for ethical business practices and the Nutiva organic Cold Pressed powder because as the best all-rounder.
Check out your favorite protein, and begin nourishing your body today.
What is Hemp Protein Powder?
Amino Acids
One of the winning keystones of hemp is that it offers you a complete protein. This means that it contains the nine essential amino acids necessary for proper ingestion. While hemp may contain slightly lower levels of protein than pea or soy protein powder, hemp is usually far less processed and not as refined as the other plant-based options.
Easily Digestible
Hemp protein is easily digestible, and studies show us that up to 98% of this protein source is easily processed and digested by the body. Therefore, your body has access to the majority of the amino acids and can use them to repair and maintain your muscles and other body functions.
Some studies suggest that the best hemp protein powders are made from cold pressed seeds because heat can lower hemp protein's digestibility.
High in Fiber
Hemp protein powders contain higher levels of fiber compared to other proteins. However, the exact amount of fiber will differ according to the brand. The amount of fiber depends on the way the hemp protein was manufactured; was unhulled or hulled seed used? Also, additional fiber is sometimes added to protein powders.
Research shows us that a high fiber diet can assist with stabilizing blood sugar and improve the health of bacteria in the gut. On average, women should be consuming 25 grams of fiber per day, while men should consume 38 grams of fiber. But, do you think that the average American consumes this much fiber? No, studies show that not even 5% of the American adult population meet these daily requirements.
The majority of hemp protein powders contain 7-8 grams of fiber per 30 grams of powder. This equates to approximately 28% of the RDI of fiber. Other highly refined plant-based proteins such as soy, rice, and peas contain very low levels of fiber.
Therefore, by using hemp protein powder, you are able to increase the daily intake of fiber as well.
Unsaturated Fats
While it is true that in order to make the protein powder hemp seeds are pressed and the oil is removed, the average hemp protein powder still contains a higher than average level of unsaturated fats.
Before you run off, remember that unsaturated fats are the 'good fats' ( 3:1 ratio of omega-6 and omega-3), meaning that they are essential for good heart health.
These unsaturated fats offer your body an essential blend of omegas but remember that this does also mean hemp protein powder will have a high caloric intake.
Extra Minerals and Antioxidants
The best hemp protein powder will have a high amount of the following minerals:
– Magnesium
– Zinc
– Iron
– Phosphorus
– Calcium
Furthermore, hemp protein powders also contain lignanamides, which are potent compounds with antioxidant properties. These antioxidants can help your body to develop protection from oxidants, a leading cause of diabetes and heart disease.
Okay, so now you know a little bit more about what hemp protein powders are. Are you ready to find out what the best hemp protein powder is? Let's dive in…
5 Main Benefits Of Hemp Protein
Derived from hemp seeds, hemp protein consists of two globular proteins, known as edestin and albumin. They are spherical in shape, water soluble, and your body can break both down very quickly for easy digestion. Edestin is rich in amino acids, which are essential to the human body. Albumin helps to retain fluid in the bloodstream and transports substances such as vitamins and enzymes around the body. So, we know where hemp protein comes from and what it consists of, but can hemp protein really benefit us? Let's find out.
Valuable Source of Protein  
Hemp seeds are jam-packed with protein and provide us with nine essential amino acids. Our body does not produce these amino acids naturally, so we need to source and absorb them through our diet. Hemp protein is particularly useful if you're a vegetarian or vegan, as a plant-based diet doesn't offer the high levels of protein we need.
2. Boosts Your Metabolism
As we get older our metabolism slows down – our energy levels start to slump and we have a tendency to pile on the pounds. Hemp protein boosts your metabolism, and also improves energy levels, aiding in the battle to stay trim. Boosting your metabolism can also sharpen the brains – improving concentration levels.
3. Enhances Your Immune System
Tired of feeling sick and tired? We lead busy lives and this doesn't always leave us with the time we need to take proper care of ourselves. Hemp protein boosts your blood plasma, creating antibodies that can help stave off illness and infection.
4. Helps You to Lose Weight
Hemp protein contains antioxidants, omega-3 fatty acids, and plenty of fibre, and a high-protein diet is often recommended to those trying to lose weight. Taking hemp protein can cut your craving for sugar and leave you feeling more satisfied (so you won't succumb to hunger pangs and feel the need to reach for the biscuit barrel).
5. Builds Muscle
Athletes, body builders and those trying to tone up can increase their muscle mass by taking Hemp protein. We've already established that Hemp protein contains amino acids, and some of these are essential to build muscle, such as branched chain amino acids – which serve to avert the loss of muscle tissue. So, if you're keen to flex bigger muscles Hemp protein could be just the thing.
Is Hemp Protein for Me?
Hemp protein packs a punch, full of with protein, antioxidants, minerals, fibre, heart-healthy unsaturated fats and amino acids it offers plenty to boost your health and well-being. Whether you're trying to lose weight, build up muscle, boost your immune system, rev up your metabolism or increase your protein intake (especially useful if you're vegan or vegetarian), Hemp protein could be a valuable addition to your diet.
Add to this the fact that Hemp protein tastes good (it has an earthy and nutty taste) and has great green credentials (it comes from a sustainable, chemical-free plant), and you start to understand why Hemp protein is so popular. Why not give it a try yourself?