CBDmd CBD Oil Tincture Review
CBDmd offer high quality, broad spectrum cbd oils to the market at reasonable prices. While we would always promote full spectrum brands, broad spectrum products offer a better solution to people who need a THC free products including athletes, drug tested employees and people suffering with psychosis who may have an adverse reaction to the trace amounts of THC in Full Spectrum products.
CBDmd is a public company that offer quality CBD oil Tinctures to suit everybody's needs with a wide range of flavors and strengths. If you are looking for a great tasting tincture, you have come to the right place. Having tried the berry flavor 1000mg tincture, I found it to be quite effective for focusing and concentrating throughout the day. It was also quite good for taking away the stress of work.
Overall we would say this one of the best broad spectrum oils we have tried. With the free shipping, generous discount code and the ability to buy exactly what you need, we would say CBDmd tinctures are definitely worth a try if you are looking for a quality THC free product.
Use Coupon Code: GREATHEMP
CBDmd CBD Oil Tinctures Review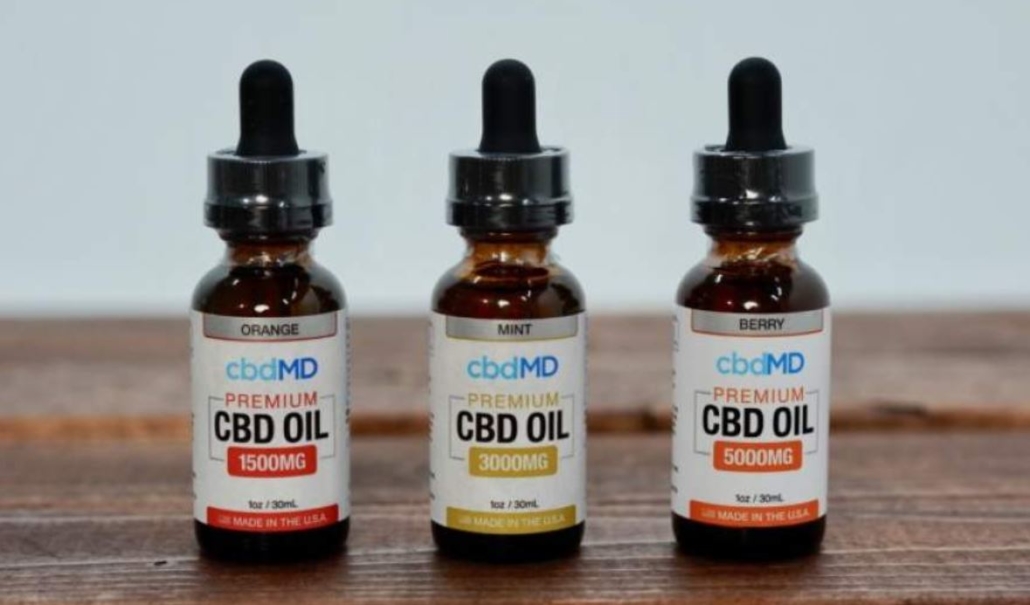 CBD is a very valuable compound that has been used for a countless number of different things in recent years. From helping people manage pain to putting a stop to panic attacks, CBD seems to have an infinite number of applications.
I've been using CBD for a couple years now. Originally I started using it for anxiety, but I've come to find that it helps with many other issues that I have as well – some which I didn't even have to deal with when I first started using CBD.
For example, when I first used CBD while my wrists were flaring up from typing reviews like this all day, I found that it was fantastic for helping to reduce inflammation as well.
The most important thing when dealing with CBD, is to make sure that you source your CBD from a good reliable company. In this article we're going to be reviewing the company CBDmd and their line of CBD tinctures – so you can decide for yourself whether or not you'll support them.
About CMDmd – History & Product Line
CBDmd, as a company, has been around for about three and a half years. They've developed quite a strong reputation, and have managed to do so by being reliable and promoting high quality products. 
They sell a wide variety of products on their website and through wholesale:
CBD oil tinctures

CBD capsules

A line of CBD products for pets

CBD vape oil

CBD gummies

CBD topicals 

CBD bath bombs

CBD sleep aids (which are basically just CBD tinctures).
That's quite a lot to choose from, and certainly more than we could cover in a single article. In this article, we'll just focus on the CBD oil tinctures that the company sells.
CBDmd CBD Oil Tinctures Review
If you're looking for a good place to start with CBD, tinctures and oils are a reliable and effective way to do so. Tinctures generally aren't too strong, so you will be able to give yourself a proper dosage. They are easy to dose, and they are stronger than capsules when they're taken properly (under the tongue, so the medicine absorbs into the blood vessels there).
There are many reasons that you might prefer to use CBD tinctures over other types of CBD:
CBD tinctures can be easily transported and come with an eyedropper so you can easily dose yourself without needing to really 'apply' the medicine. 

They are great for when you're on the go

You don't need to do any extra work or preparation for your tincture to work

It's relatively easy to measure your dose (moreso when you are using tinctures that are less strong).
There are many different types of tinctures, however, each with their own unique benefits and drawbacks. 
CBDmd offers their CBD oil tinctures in two different sizes: 60 ml and 30 ml. However, each of these sizes can come with a variety of different dosages of CBD – meaning that each one will have a different strength. Here are the different strengths:
In the 60 ml bottles:
1000mg of CBD

1500 mg of CBD
In the 30 ml bottles:
300 mg of CBD

750 mg of CBD

1500 mg of CBD

3000 mg of CBD

5000 mg of CBD

7500 mg of CBD
These products are also available in a variety of flavors. Bottles that contain less than 5,000 mg are available in 'natural,' or flavorless flavor, berry, orange, and mint. Bottles containing 5,000 mg or more are only available in berry or natural flavor. 
CBDmd only uses two ingredients in their CBD products: CBD, derived from hemp, and MCT oil. No word from the company on what the ingredients in the flavorings are, or how they are able to create a flavoring while advertising that their products only contain two ingredients. 
One thing to be aware of is that CBDmd does not currently offer full-spectrum CBD tinctures. As mentioned above, the only two ingredients are CBD and MCT oil. This means that their CBD oils are missing the natural terpenes and other cannabinoids that are found in hemp, which work together to provide people with the entourage effect. 
There's also no mention on their site about whether or not they source their hemp from organic sources – so chances are that they don't. 
The above two factors, combined with the fact that they charge pretty much the same price as many other CBD companies who offer higher-quality, full-spectrum extracts sourced from organic hemp, suggests that these might not be the best company to start out with. 
Pros & Cons
It's important to weigh all the different factors of a company and their products before making your final decision. Here are the pros and cons of CBDmd.
Pros of CBDmd CBD tinctures:
They're easy to transport 

CBD tinctures are great for using on the go

They are available in a number of flavors

They are available in very high potency (up to 7500 mg)

They are simple and easy to use and regulate your dosage

Available at a reasonable price
Cons of CBDmd CBD tinctures:
No mention of whether or not the product is sourced from organic hemp – so this is unlikely

Not full-spectrum tinctures, no entourage effect

Many companies sell organic, full-spectrum tinctures for similar prices

Confusing and possibly misleading statement saying that they only include 2 ingredients, when the tinctures must be flavored with natural or artificial ingredients
In Conclusion
CBDmd is undoubtedly a company that knows what they're doing. They have a wide variety of products available at reasonable prices, and they have built a reputation on being reliable and providing high quality products.
Unfortunately, it becomes clear when learning about the company that they do not offer the highest quality products. In fact, many companies offer higher quality products that are available for practically the same price that you would pay for CBDmd products which are not organic or full-spectrum.
All in all, however, their products are certainly high-quality and effective. If you're wanting to give CBD a try, CBDmd could be the company for you.
Use Coupon Code: GREATHEMP
Nigel Ford is a professional writer and cannabis enthusiast who has been covering the legalization of marijuana and CBD for several years.
Nigel Ford battled a life-threatening drug addiction during his younger years, and natural compounds like CBD quite literally helped to steer him on the path to recovery. Nowadays, he is passionately dedicated to spreading the word about natural medicines like marijuana, as well as yoga, meditation, and naturopathy.