Joy Organics CBD Topics Salve Review
The Bottom Line
Have you ever used a salve that's been infused with CBD? Instead of ingesting orally, a salve allows you to utilize it on target areas across the body. Many have incorporated CBD salve as well as other popular items, like CBD tinctures or capsules, into their daily routine.
Using a combination of CBD products is what many consider to be the most effective way to promote general wellness and ease the symptoms that you're targeting most.
For those with inflammation, joint pain, or other types of target areas across the body, a CBD salve may be the answer you've been looking for – and the CBD salve from Joy Organics truly takes the cake.

The Joy Organics Difference
Not every CBD brand is the same. The industry is wildly unregulated right now, so many companies get away with using ingredients that are not up to par with the quality you deserve. Product batches often go untested, leaving brand's formulas inconsistent in the cannabinoid content they're advertising. This means those products run the risk of containing contaminants, pollutants, or even a higher THC count than the legal maximum of 0.3%.
The Joy Organics Difference works to set the standard for the industry with their incredible products, starting with a comprehensive process that they're transparent with their community of every step of the way. Their CBD salve is one of the first products we got to try from them, and it really set the stage for the premium quality we got to experience.
Their Ingredients
The first thing that sets Joy Organics apart from the rest of most CBD brands it he minimal amount of ingredients they put in each product. For their salves? They use only five ingredients: MCT oil, beeswax, phytocannabinoid-rich hemp extract, lavender essential oil, and eucalyptus essential oil; all organically grown for the most control over their harvest.
Our Experience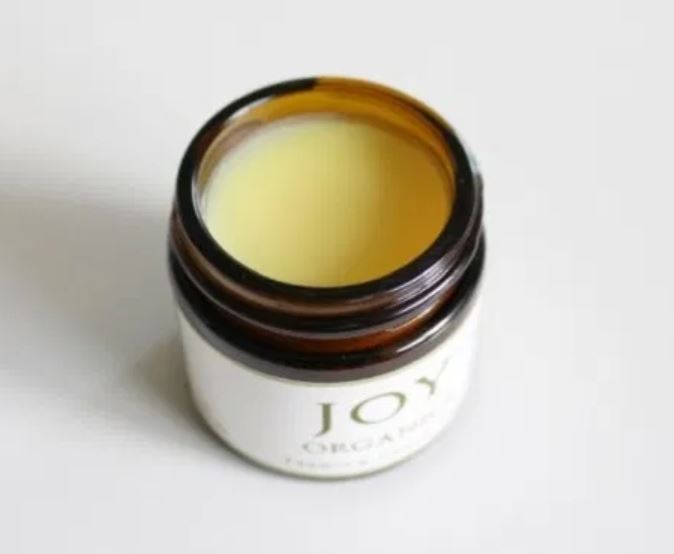 As far as the efficacy of the CBD salve from Joy Organics, I can't remember the last time I've experienced such an effective topical cream. Not only did it help regulate some of the more inflamed areas across the body, but it also helped ease some mild pain.
Fortunately, salves can be applied as needed throughout the day, so there's never really a max limit or "too much" you could use. That being said, I found it to be most effective if I started my day by using the salve on the most affected areas, then following up sometime either before or after lunch.
Overall, it's one of the fastest-acting CBD products I've gotten the pleasure of using. I felt relief after about two minutes on most occasions, trying it out each day for at least a few weeks before writing up this review.
Pros
Advanced 7-step process for CBD products sets Joy Organics apart from the rest of the industry
The CBD salve was incredibly fast-acting, hitting target areas with relief almost immediately
There wasn't too bad of a greasy feeling with the salve, especially if you use a moderate amount
Topical CBD creams don't have to be metabolized by the body or pass through the digestive tract in order to work, making them powerfully effective
Other ingredients used in the Joy Organics CBD salve make it especially good for moisturizing
A CBD salve can double as a massage cream to really help work it into trouble areas
Cons
Broad spectrum means it's completely THC-free, so you don't get the "full-spectrum" experience
Using too much of the salve at one time or on one spot can make it feel greasy for up to an hour
Salve is a little pricey than some competitors – but you get what you pay for!
Efficacy doesn't last as other CBD products, so maybe use a salve in combination with a tincture or capsule for maximum potency
Conclusion
If you've been looking for relief from target areas across your body, the CBD salve I got to try from Joy Organics is second to none. I found it to be the most effective in the shortest period of time, so it may help ease your inflammation or pain spots all the same.
Try out the CBD salve from Joy Organics today to see what it can do for you. Remember, everyone is different, so you may need to apply more or less depending on your needs. Likewise, it may take longer or shorter for you to feel the effects, both after each application and in general. Many don't experience stacking benefits with their CBD products until after a few weeks of consistent or daily use.

See Our Full Joy Organics Review Here: